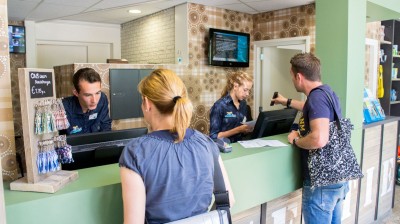 Arrival at Ons Buiten
Questions about the camping park, the environment or do you want to have a little chat? At the reception you are in the right place. We'd love to help!
Visiting hours from 4 april:
Saturday - Thursday 09:30 - 12:30, 13:00 - 17:00
Friday 09:30 - 19:30
Tel: +31 0118-581813,
onsbuiten@ardoer.com
Sanitairy
Ons Buiten has three central sanitary buildings, fully equipped. Each sanitary building has a seperate room with sanitary for kids and a washing up area for babies. In every building there is also a chemical toilet dump, a microwave and a dishwasher.
The sanitary building in the 'Strange Fruit Forrest' has a bathroom for disabled people with a shower, a toilet and a sink. For € 10,- a day, you can rent your own private bathroom in the sanitary building.
Shop
Zeeuwse Oogst, the shop filled with delicious local products and souvenirs. We bake fresh bread for you every morning and the newspaper is also waiting for you here!
Fill your picnic basket with the 'Zeeuwse bolus', a glass of applaere (apple juice), Zeeuwse jam, a delicious piece of French bread, a local cheese or wine. Whether you stay on a camping pitch or in one of our rental accommodations, spoil yourself- or surprise someone with our breakfast service!
Internet
There is free wireless internet at Ons Buiten with a maximum of one user per reservation.
If you don't have a laptop or a computer, you can use the computer at the reception.
Laundromat
There are several dryers and washing machines in our laundromat. You can pick up your laundry tokens at the reception. Ideal for a longer stay!